32 participants of the World Cup returned today to the venue to play the first games of the second round. Only 7 games were decisive, while 25 finished in a draw.
Magnus Carlsen defeated Alexey Dreev, David Navara won against Ivan Cheparinov, in two Russian derbies Vladimir Kramnik and Vladimir Fedoseev won against Anton Demchenko and Ernesto Inarkiev accordingly, Boris Grachev lost to Maxime Vachier-Lagrave and Le Quang Liem lost to Vidit Santosh.
The biggest surprise of the second round was a victory of Anton Kovalyov from Canada over former World champion Viswanathan Anand. Indian player decided to sacrifice a piece in a better position 23.Nc5 but his opponent found a precise way to defend and kept his extra material. Vishy needs to win tomorrow with Black pieces to continue playing in the tournament.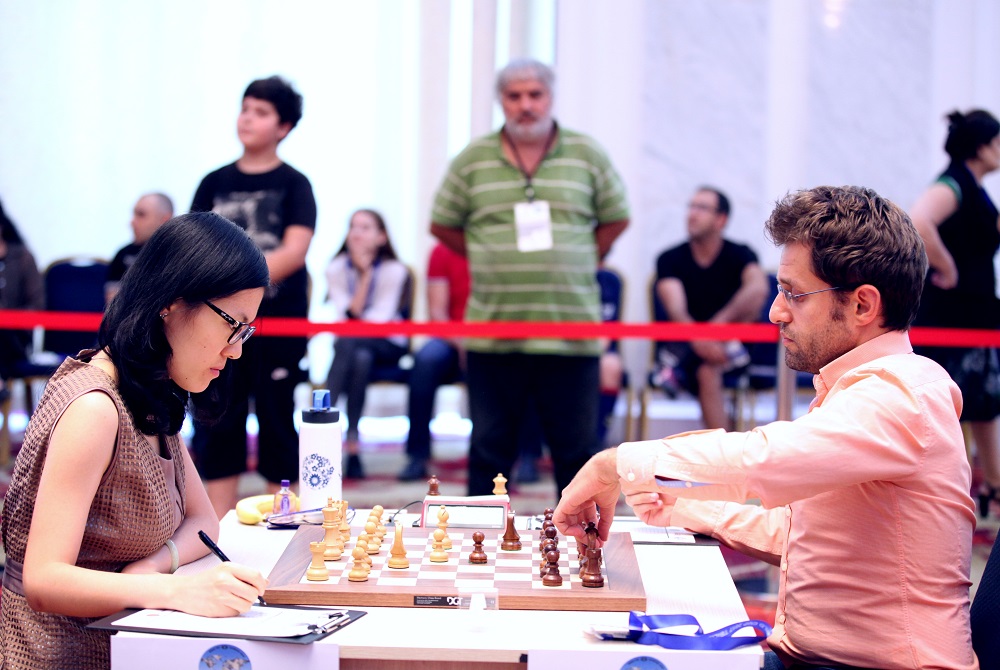 The games Hou Yifan – Aronian, Motylev – Giri, Bacrot – Bu Xiangzhi, Karjakin – Dubov, Duda – Ivanchuk, Harikrishna – Sethuraman, Lenic – Caruana, Mamedyarov – Kuzubov, Matlakov – Andreikin, Sevian – Li Chao, Tari – Lenderman, Wei Yi – Rapport, Yu Yangyi – Jobava, Adhiban – Nepomniachcthi, Svidler – Erdos, Rodshtein – Adams, Bruzon – Nakamura, Tomashevsky – Vallejo Pons, Onischuk – Wojtaszek, Cori – Grischuk, So – Bluebaum, Kravtsiv – Ding Liren, Artemiev – Radjabov, Wang Hao – Gelfand and Vitiugov – Najer finished peacefully.
The second game of the second round of the FIDE World Cup starts at 3 p.m. local time on 7th of September.